'Brassic Fantastic' Fundraiser in aid of SANE – WIN exclusive BRASSIC PRIZES signed by Damien Molony & cast!
The Damien Molony Forum 'Brassic Fantastic Fundraiser' in aid of SANE
*** UPDATE ***
The Brassic Fantastic Charity Prize Draw is now closed!
Together we raised £1360 for SANE! Thank you to everyone who entered, your donation will make a difference to this important charity. Prize winners announced here!
DMF has joined forces with Damien once again for a charity prize draw!
For our 2019 fundraiser we are giving away exclusive Brassic prizes, personalised by Damien and the cast, to raise as much as we can for mental health charity SANE.
Watch the very special video below for Damien's introduction to the fundraiser from the set of Brassic series 2!
PRIZES
Our 2019 charity prize draw is our biggest yet, with a total of 26 prizes up for grabs. Check them all out below!
1 Brassic F**K QUINOA cap signed by Damien & Aaron Heffernan
Damien's Brassic Series 1 Hoody (worn by Damien, designed by Aaron Heffernan)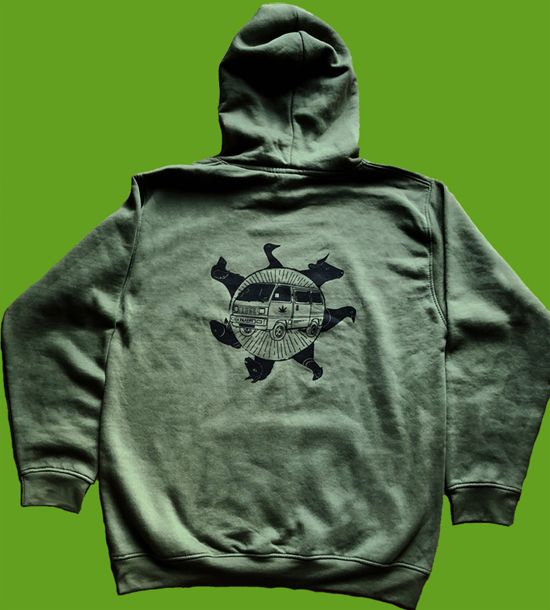 1 Brassic F**K QUINOA T-Shirt  size large(worn by Damien)
1 Brassic Poster autographed by Damien and the cast
7 Brassic DVDS personalised and autographed by Damien and the cast!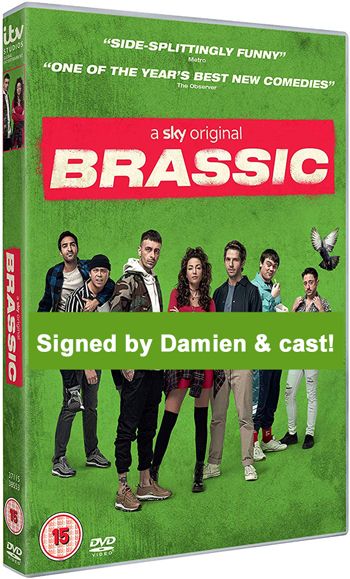 (Please note the DVDs are region 2, all prizes are available internationally)
9 Brassic Photos autographed by Damien and the cast
3 Dylan Close-up Photos
8 x 8 inch photo x 1
6 x 6 inch photo x 2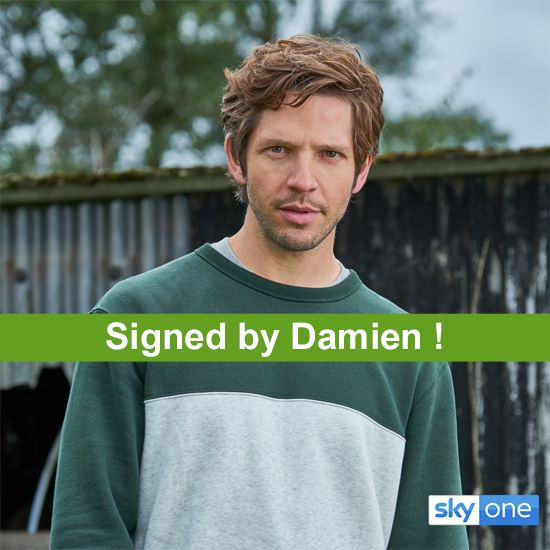 1 Dylan Portrait Photo
8 x 8 inch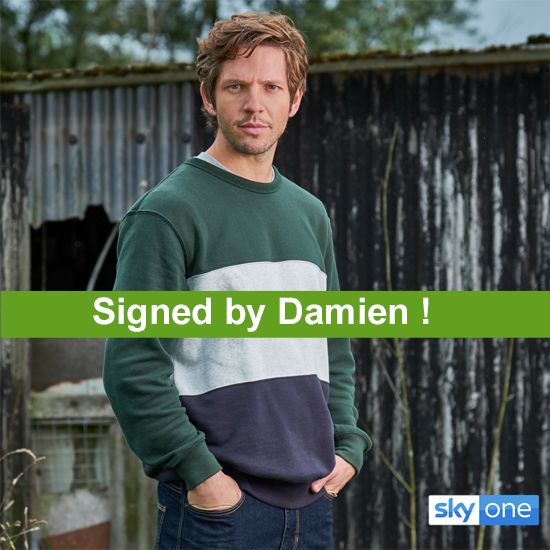 3 Vinnie, Erin & Dylan Cast Photos
A4 photo x 1
8 x 6 inch photo x 2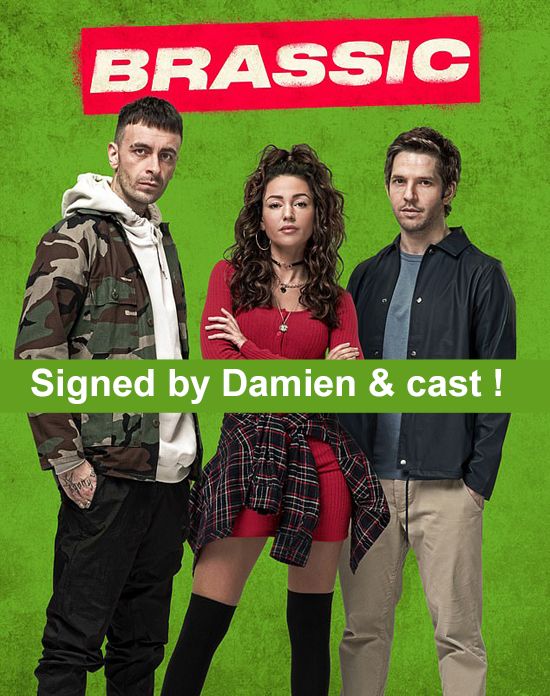 2 Cast Portrait Photos
8 x 6 inch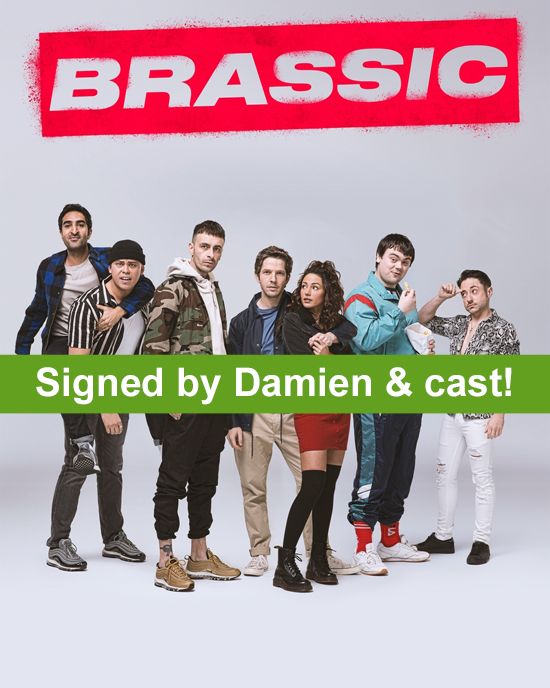 3 Brassic F**K QUINOA caps from Sky
3 Brassic F**K QUINOA T-Shirts size large from Sky
3 Personal 'thank you' Christmas card from Damien for top 3 donors
(Please note: this is not the final design!)
About the 'Brassic Fantastic' Charity Prize Draw and our chosen charity
Damien has most recently appeared in series 1 of new Sky comedy drama Brassic, co-created by Joe Gilgun who also stars in the leading role. While it is a comedy, Brassic also shines a light on mental health issues, through the main character Vinnie (Joe Gilgun) who has bipolar disorder. The storylines explore how Vinnie's illness affects him and those around him, especially his best mate Dylan, played by Damien. The series is partly based on Joe's real life, including his own experience of bipolar.
Damien said:
"I didn't have an understanding of bipolar before we started filming. So I could talk to Joe about it, talk about his life and the things that he has experienced, and his day-to-day experience was a real eye-opener. Having him to talk to about it, made the delicate scenes between Dylan and Vinnie more real. And Joe's honesty and openness about his mental health made it easier for everyone else on set to be honest about theirs."
For this reason, we have chosen the mental health charity SANE for our 2019 fundraiser.
About SANE
SANE is a charity in the UK offering emotional support and information to anyone affected by mental health problems through their helpline SANEline, Textcare and an online Support Forum where people can share their feelings and experiences. They also campaign to raise awareness and combat stigma about mental illness and to improve mental health services. SANE also initiate research into the causes and treatments of serious mental illness.
Enter the prize draw and you could win a 'Brassic fantastic' prize, while helping an important cause!
For a chance to win, simply donate to enter the draw – all donations will go to SANE to help the important work they do.
About DMF Fundraising 
DMF is a fan-run fansite supporting Damien's work. We are very proud to have collaborated annually with Damien in fundraising for a number of different charities.
This is DMF and Damien's charity fundraiser number 6! As with previous fundraisers the Brassic Fantastic charity prize draw is a group effort. Damien provides the inspiration, autographs, energy and star power, DMF creates and manages the fundraiser and runs the prize draw, but it is you the fans who truly make it happen. Without your kind-hearted donations and support, we would not be able to support a charity in this unique and wonderful way.
You can read more about our previous charity prize draws here.
How do I enter?
A donation of £5 gives you one entry into the prize draw, and will help to support SANE's work in giving emotional support and information to anyone suffering with mental health problems and their families.
You can enter as many times as you like, each £5 counts as one entry.
Every penny donated will go to SANE and each donation helps. Not only that, every donation will be entered into the draw for the chance to win a one of a kind prize!
Be sure to tick the 'share my email with the fundraiser box' when you donate, so we can contact you if you win. Please don't select the Gift Aid option, as prize draws are not eligible.
The closing date is midday (UK time) 29 November 2019.
Tip! The more you donate, the higher your chances of winning a prize. All prizes are limited to 1 per person, but Christmas cards will go to the top 3 donors at the prize draw closing date, even if they are also prize winners.
GOOD LUCK!
Click on the link below to enter!
Please help us spread the word and tell us about your donation at the Forum, on Twitter, Facebook or Instagram!
For more info, to ask any questions and to discuss with other fans, click here!