'Crashing For Christmas' Charity Prize Draw: WIN Exclusive Signed DVD, PHOTOS & CHRISTMAS CARD from DAMIEN MOLONY!
The prize draw is now closed. Together we raised £675 for Centrepoint!
HUGE THANKS to everyone who donated, you made a difference to the lives of young people this Christmas.
MASSIVE THANKS to Damien for yet again making another fundraiser possible and collaborating to support another important charity.
Winners announced on the forum here. Congratulations!
———————————————————————
Once again the Damien Molony Forum have joined forces with Damien to fundraise for an important cause at Christmas.
And once again we are calling on you, our fellow fans, to help us make a difference!
With Damien's help, we are delighted to bring you our 2018 charity prize draw, with some very special and exclusive prizes.
*** NEW EXCLUSIVE PRIZES ADDED!! CLICK HERE FOR DETAILS! ***
What prizes are up for grabs?
Donate and you could WIN one of the AMAZING SPECIAL prizes below, personalised by Damien himself!
3 PERSONALISED CRASHING DVDS!
WIN a one of a kind Crashing DVD – personalised by Damien!
Damien has customized and autographed 3 Crashing DVD covers, especially for this prize draw. Yes, we have 3 super-duper copies to give away, to 3 lucky winners, for Christmas!
On the back cover: Very best wishes [autograph] x
On the inside cover: Thank you very much for supporting this fundraiser! Damien x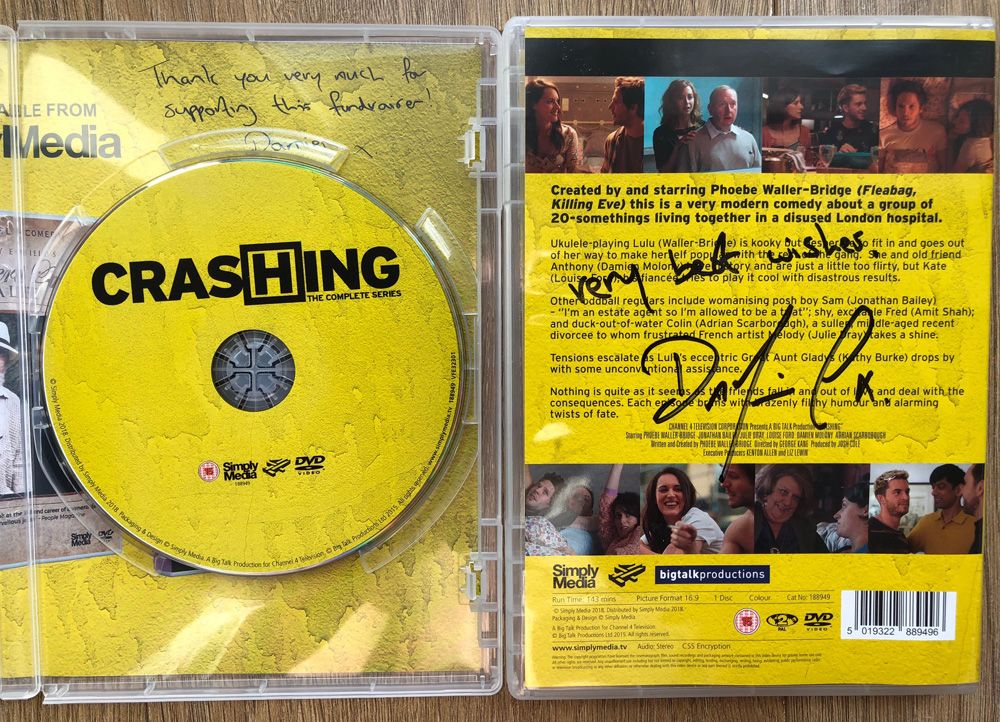 3 PERSONALISED CHRISTMAS CARDS FROM DAMIEN!
Receive a very special 'Crashing for Christmas' card – from Damien himself!
Damien will personalise, write and send a 'Crashing for Christmas' card to each of the top 3 donors at the end of the prize draw!
Which charity is the prize draw for?
Our chosen charity for 2018 is CENTREPOINT, the UK's leading youth homelessness charity.
As always, our cause connects with the prize we're giving away. CRASHING is a comedy drama following the lives and loves of six twenty-something adults living together in a disused hospital, in an age of unaffordable housing and sky-high rents. The homeless young people helped by Centrepoint are facing even more challenging circumstances. If you would like to make a difference to their lives this Christmas, please help us to raise as much as possible by donating to this very worthy charity.
Who is fundraising?
DMF is a fan-run fansite supporting Damien's work. We are very proud to have collaborated annually with Damien in fundraising for a number of different charities.
This is the fifth DMF and Damien Molony charity fundraiser! As with previous fundraisers the Crashing for Christmas prize draw is a group effort. Damien provides the inspiration, DMF creates and manages the fundraiser and runs the prize draw, but it is you the fans who truly make it happen. Without your kind-hearted donations and support, we would not be able to support a charity in this unique and wonderful way.
You can read more about our previous charity prize draws here.
How do I enter?
A donation of £5 gives you one entry into the prize draw, and will help to support Centrepoint's work in giving homeless young people aged 16 – 25 a future.
You can enter as many times as you like, each £5 counts as one entry.
Every penny donated will go to Centrepoint and each donation helps. Not only that, every donation will be entered into the draw for the chance to win a one of a kind prize! The closing date is midday (UK time) 10 December.
Tip! The more you donate, the higher your chances of winning a prize. DVDs are limited to one per person, but Christmas cards will go to the top 3 donors at the prize draw closing date, even if they are also DVD winners.
GOOD LUCK!
Click on the link below to enter!
For more info and to discuss with other fans, click here!